It's no secret that almost everything around us is digital. That's exactly why these handwritten recipe tea towels are the perfect gift idea for just about everyone on your list.
Tea has always had a special place in my heart. When I was little, my Grandma would always get out her best tea set and let me have tea parties with my dolls. Now that she has passed away, I try to make the same special memories with my girls. Even the fanciest of tea sets can be replaced but those cherished memories cannot.
Now that I am an adult, I still love tea. I have a cup (or two) of Bigelow's Breakfast Tea in the morning to start my day off right and Bigelow Green Tea throughout the day. Walmart has a huge selection of Bigelow Tea in several flavors. It's refreshing to switch it up from time to time, depending on the mood. There's always a tea for something.
These handwritten recipe tea towels are the best way to preserve your favorite recipes from your loved ones. The best part is, they are so easy to make. No matter your crafting level, I am more than sure you can pull this one off.
Here's what you will need:
A blank white tea towel
T-shirt transfer paper (any brand you prefer)
Printer
Your favorite recipe
I picked up a 2-pack of tea towels at Walmart while stocking up on my favorite Bigelow Tea for just $1.97. Not only are these handwritten recipe tea towels heartwarming gifts, they are also frugal. Double win!
Here's what you need to do:
Take a picture of your favorite handwritten recipe and upload it to your computer – in a location where it can be printed. If you have a printer that has a scanner, you can also scan it as well. Whichever is easier for you.
Once your recipe has been uploaded, print it out onto the iron-on transfer paper. I used a material made specifically for "dark materials" only because I feel it prints better.
Place your printed handwritten recipe in the desired location on your tea towel. Iron on heat settings according to the material being used.
Press firmly and iron the entire area. Once fully pressed, peel the backing. Let cool completely before moving.
That's it! Your cherished keepsake is done.
Making these handwritten recipe tea towel is the perfect way to tea proudly. I couldn't think of a better gift to give or receive. Handwriting may not be as important as it once was, but this is the perfect way to preserve those cherished recipes, letters, signatures or anything else handwritten that is important to you. Just imagine the possibilities.
Life can get pretty busy, so let's not forget about the things that really matter. So pour yourself a big cup of tea, fire up the printer and begin looking for Grandma's old recipes. You will be glad you did!
Those handwritten recipes might not be around forever. Making these handwritten recipe tea towels is one way to make sure they become a family heirloom.
For more ideas and updates about Bigelow Tea, be sure to check them out on social media: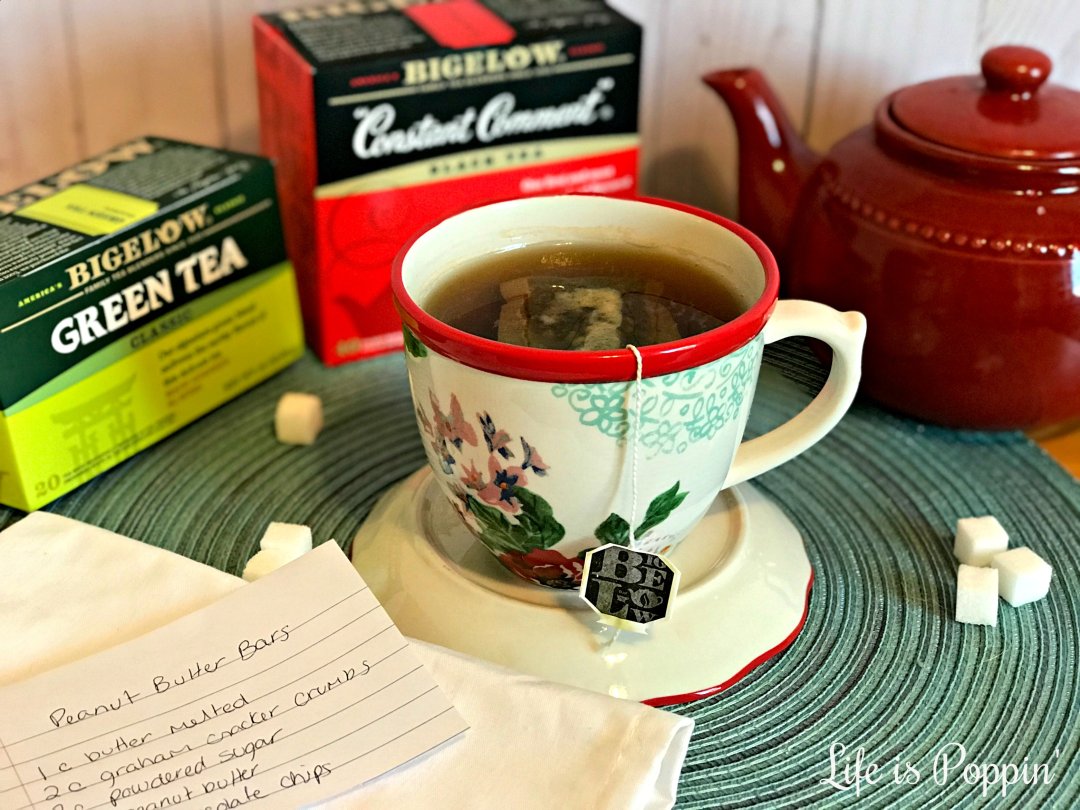 If you loved this idea, be sure to pin it below:
Take a look at all of these other great DIY projects while you are here!