This shop has been compensated by Collective Bias, Inc. and its advertiser. All opinions are mine alone. #CurbsideConvenience #CollectiveBias
.
Being a busy Mom, there is never enough time in the day. Here's a Mom hack you might not yet have heard of: Giant Eagle Curbside Express
If you know my story, then you know that I became a Mom at an age when I should've been focused on other much more important things. That being said, my motherhood journey has been a happy, exciting, and at times, extremely exhausting. I'm a huge fan of the popular saying "work smarter and not harder." Because of that, I am always looking for ways to make my life a bit easier and save some much needed extra time.
This is where Giant Eagle Curbside Express comes in. Where the heck has this been my entire adult life?! If you have yet to hear about this amazing service, let me fill you in. Giant Eagle Curbside Express is a service that allows you to order your grocery items online and have your order delivered right to your car. Do you know what this means? No more buying things you don't actually need. No more dragging your screaming kids down every single isle. No more unnecessary spending. This here is a game changer, folks.
Here's how my first purchase went:
While still in my pajamas, I grabbed my laptop, my hot cup of tea and typed in https://www.gianteagle.com/curbside. The above screen popped up and I chose "shop for pickup."
Next, found the store closest to me that offers Curbside Express.
Let the fun begin. I searched the site for products I would usually purchase as well as looked for a few new ones. It's easy to purchase any bulky or heavy items through Curbside as the Curbside pickers will load them directly into your car! Plus, I was even able to add fresh produce as well as meat to my cart.
I am so over the dreaded "what's for dinner" questions so I wanted to get a few new ideas.
There's a section on the site that offers recipe ideas and gives you the options to add those exact ingredients into your cart. Genius!
Once I had my items in my cart, I proceeded to checkout.
Payment for Curbside Express services may be made via credit card (Visa, MasterCard, American Express, and Discover), Giant Eagle gift card, and in some cases with cash or a personal check. For pickup orders, you can either pay online or at the store. Even if you choose Pay Online, your card is not charged until you pick your order up at the store.
Once my order was complete, I was able to choose a day and time that worked best for my schedule.
Once my desired time was selected, I pulled up to the designated parking spots in the front of Giant Eagle. There were signs located as soon as I pulled in so the spots were easy to find. I love having a trusted personal shopper who picks out my groceries for me and not a robot. Makes the experience more personal and trusted.
The groceries were brought out to my car and loaded into the backseat. It seriously doesn't get any easier than this.
Whether you're a stay-at-home Mom, a business-owner, an employed professional, or even a superstar female athlete, the mission at home never changes. Kids will always be kids, and messy houses will always be, well, messy houses! At least your grocery shopping doesn't have to be hard or time-consuming.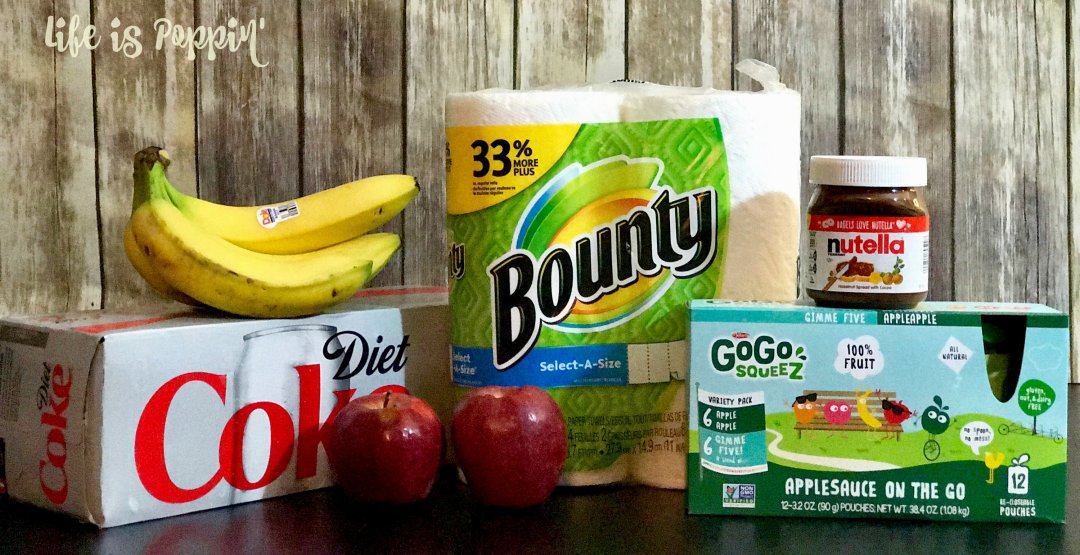 Ingredients:
2 C. all-purpose flour
1 ½ tsp. baking soda
1 tsp. salt
16 oz. Diet Coke
½ C. unsalted butter
1 C. granulated sugar
1 C. light brown sugar, packed
2 eggs at room temperature, lightly beaten
1 tsp. vanilla extract
What you do:
Preheat the oven to 325 degrees F. Line 24 muffin cups with cupcake liners; set aside.
Whisk the flour, baking soda, and salt together in a large bowl. Set the bowl of dry ingredients aside.
Heat the Diet Coke, butter, and cocoa powder in a small saucepan set over medium heat, stirring periodically, until the butter has completely melted.
Whisk in the sugars and continue heating until dissolved. (About 4 to 5 minutes total.) Remove from the heat, stir in the vanilla, then allow the cola mixture to completely cool.
Once the cola mixture has cooled, whisk in the eggs. Pour the cola mixture into the dry ingredients, whisking them together until the batter is just blended and smooth. Divide the batter evenly among the prepared cupcake liners, filling each about 2/3 full.
Bake for 18 to 20 minutes, or until the cupcake crowns puff and a toothpick inserted in the centers comes out clean.
Allow the cakes to cool in the pans for 3 minutes before removing and transferring them to a wire rack to completely cool.
Once cooled, top with your favorite buttercream frosting. I drizzled mine with a touch of caramel sauce. Oh, and don't forget the cherry!